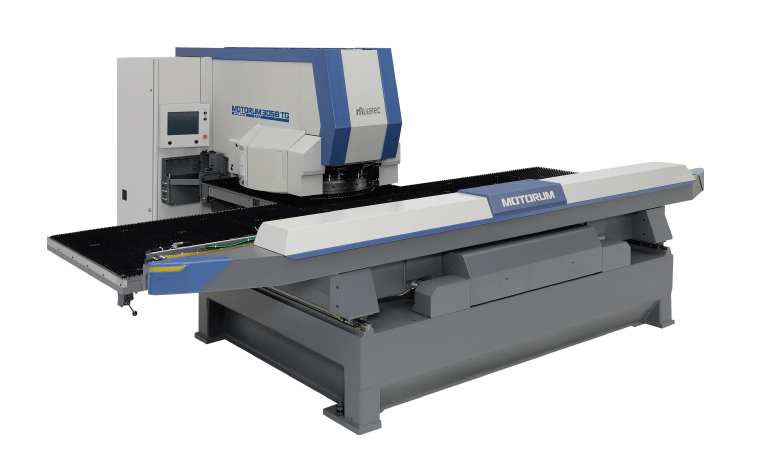 Muratec 3058TG is the new 30 ton solution from the Inventor of the Electric Turret Punch Press. It provides stability at maximum tonnage. Environmentally friendly and power efficient. Reduce post processes with the latest machine and tooling technology. Supports tapping, forming, marking, deburring and various automation options. New touch screen user interface assists the operator and increases machine productivity.
| | | |
| --- | --- | --- |
| Machine model | : | Muratec M3058TG |
| Punching capacity | : | 300 kN |
| Max. sheet thickness | : | 6.35 mm |
| Max. sheet size | : | 1525 mm x 2500 mm |
| Punching accuracy | : | ±0.1 mm |
Two Piece Design
Muratec's original "C" frame is designed to separate the frame and table base. Even at maximum tonnage, vibrations are not carried over to the table delivering increased precision and high quality parts
Wide Table Base & Y-Axis Twin Ball Screws
A wide frame structure supports the 2.5M X-axis stroke table. Twin Y-axis balls screws are controlled by synchronized servo motors. Both have been engineered to realize improvements in stability and processing accuracy during high-speed movements.
In-Line Punch Drive Design
Driven by Muratec's goal of constant improvement, the ram servo motor has been designed parallel with the press frame. This provides a compact press frame generating less stress, greater rigidity, improves hole quality and tool life.
Positive Strip Tooling Is A Proven Wiedemann Design
Using a mechanical link between the ram and the punch holder provides a positive push and pull motion during the entire punching stroke. The design has been field proven for its high strength, precision and simplicity of tooling. It provides the most economical tooling solution in the industry. Also available is high end guided tooling with steel strippers providing precision production and longer tool life.